Dawn pres. Dawn Horror Story
Lightbox, London.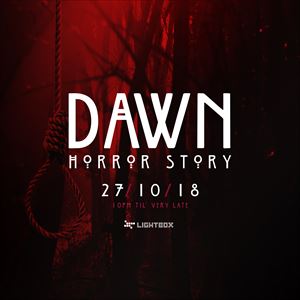 More information about Dawn pres. Dawn Horror Story tickets
?? DAWN Horror Story ? 12 Hour Freak Show ??
Will you survive?

Halloween is that special time of year when inhibitions can be lost & imaginations can run free!

Carrying on from last year's huge success this year we present you a 12 hour FREAK SHOW and for this special occasion we've put together a huge line up of international artists who will be joining us from Saturday rolling into Sunday morning ??

Line-up
TBA

Last year's aftermovie: https://www.facebook.com/dawnafterhours/videos/891677457651922/

? Dress for the occasion & Expect the unexpected ?
Parking Notice
Please note that Fire recommends that customers use public transport to get to the venue and that customers do not park in local streets as this is disruptive to our community and all of the local streets around Fire have local parking restrictions.